Updated with new insights in 2023!
As things stand in the B2B world, this is what we know about sales prospecting;
SDRs typically take this knowledge and apply it to traditional or often used strategies. These include;
LinkedIn Connections And Networking
Identifying accounts and key decision makers on the social platform and reaching out to them through InMail.
Personalized Cold Outreach
This is a combination of cold calls plus cold emails that are personalized through the right data.
Partnering With Non-Competing Companies
Finding companies that offer complimentary services and forming an alliance with them.
Attending Industry Events
You know who attends these events? Yep, potential customers and as a side benefit, you can also observe your competitors in action.
For those looking for something a bit more unique, attending events hosted by their customers is also a great opportunity to network. I mean it's practically an automatic referral when you meet new people at such events.
Utilizing Direct Mail
Since direct mail never really went out of style – especially in the B2C world – it would be incorrect to say that it's now making a 'comeback.'
As a unique sales prospecting idea, handwritten letters combined with small giveaways (like the latest book on something the prospect is interested in) go over really, really well.
Social Media Activity
From Facebook to SoundCloud, good SDRs know that there is really no social platform that they should not tap into – especially if their target audience spends a lot of time on it.
According to Daniel Disney, founder of The Daily Sales, "Here is the simple truth of it…

Your prospects and customers WILL be using social media.

For many of them, they will be active on it DAILY

Some of your prospects are MORE likely to reply to a LinkedIn message than answer a cold call

The key to success in sales is to use ALL tools together."
These are the usual sales prospecting ideas that we know and have mastered – but this is how you can turn them into something out-of-the-box or unique.
Read: 30 Sales Automation Tools to Help You Sell More in 2023
5 Unique Sales Prospecting Ideas To Use As An Add-On
Simply put, the following add-on ideas will help you stand out – in a good way.
1 – Include GIFs In Your Emails
It's simple – GIFs help your email stand out by drawing the reader's eye.
Let's be frank, reading straight up pitches promising to get you 10x returns can get old really fast. GIFs break the monotony of such emails and help you get through to the prospect with a bit of humor.
Even better, you can include GIFs in the first few touch points to show how your software works. They work as a brief explainer 'video' that shows how your product works or how it can make the prospect's existing system better.
Email marketers already know the advantage of using GIFs, so why can't salespeople also take advantage of this popular medium as a unique add-on in their campaigns.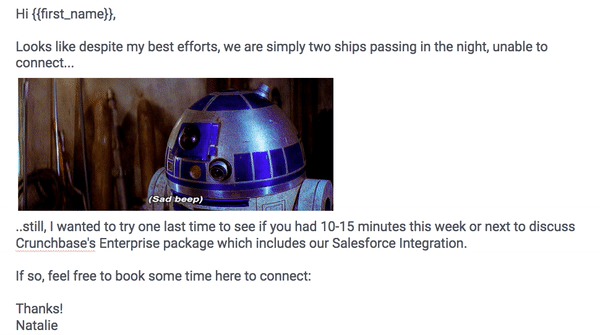 Source: Crunchbase
Go on, give it a try – no need to thank us!
2 – Add Emoticons To Your Outreach  
The one advantage to using emoticons or emojis is that they are pretty much self-explanatory and help you convey a range of emotions.
As a side advantage, these help you stand out in a crowded inbox and help you save space when displaying your email on a mobile device.
Use them in your subject lines to get higher open and response rates or respond to comments on social media.
Of course, it goes without saying that there are certain situations you shouldn't use them in. For instance, when sending a strictly formal email since these are inherently informal.
3 – Use Memes In Your Content
Want to 'humanize' your outreach? Add memes to your campaign.
Remember, memes come in different formats such as GIFs, videos, images, etc. so they can be used in a variety of settings.
When used to target a specific group of people who understand the context, they allow you to form a stronger connection. And the best part is that you can (and should) put your spin on popular memes so as to make them more relevant to your situation.
For instance, the 'you vs. competitor' meme could make for a compelling (and humorous) case in favor of your service or product.

4 – Take Clues From Your Marketing
Here's an out-of-the-box idea – use the knowledge your marketing has accumulated over time.
Instead of the usual '[your company] + [prospect's company] subject line, use content that works for your weekly newsletters.
Here's a real example we tested at Cloudlead.
Our marketing sent out a newsletter with the subject line; Is cold calling dead?
The campaign got an above average open rate, about 52.7% to be exact which is significantly higher than the average of around 15%.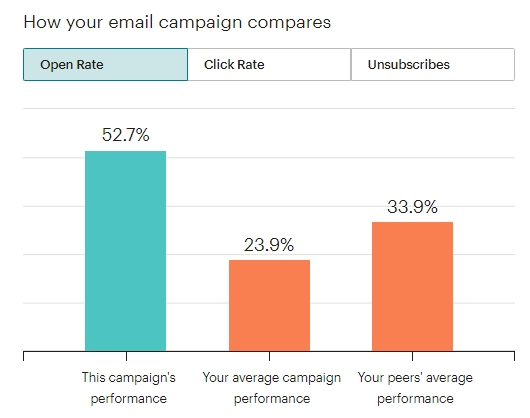 So, in our next cold outreach, we used the same subject line and linked to our article about the future of of cold calls along with a very, very subtle pitch.
And guess what, we pretty much got similar results for that cold email. Total win-win.
5 – Leaving Voicemails
With a low response rate – 4.8% to be exact – most salespeople have given up on voicemails.
But this is exactly why you should bring back this strategy (with a little twist) into your campaigns. What we mean by this is that you should combine a voicemail with an email, both before and after. And of course, keep your message short, to the point and don't forget to emphasize your contact information.
The main advantage here is that the response you do get will be from higher quality leads. In other words, people who are more likely to convert into customers.
And that's it folks – do you have other out-of-the-box sales prospecting ideas that we can add to this list? We'd love to hear from you.
Cloudlead specializes in sales prospecting and B2B lead generation. We mine top of the funnel leads based on your ideal customer profile with sales triggers that help you close more deals than ever.
Want to learn more? Book a demo with us today.