Have you heard of the term BASHO email? If you or your company is actively prospecting with outbound strategies, then they must give BASHO email a try. In simple terms, a BASHO email is a super-personalized email that is meant to get you a meeting with a potential lead.
Furthermore, a BASHO email is usually intended for the top decision maker as well. You'll figure out why below.
We ask for a prospects time and what do we give them in return? –  The answer is simple, offer them something of value.
The saying that "time is money" doesn't only apply to a salesperson. A sales development representative or SDR is not only meant to send an email intended for a yes or no, but also to show that they bothered to understand who they are talking to.
The stress of sales can turn an SDR immune to these feelings but there is a general rule to follow here. Take 3 minutes out for research and another 3 minutes for drafting a personalized email. It takes time, but it pays off.
Tip: Always remember to have the right information on your prospects to not only contact them but to use as a trigger. This will further save your sales reps valuable research time. 
Now you know what a BASHO email is, let's quickly jump to the 5 reasons you need to implement this into your 2019 strategy.
5 Reasons to use a BASHO Email?
BASHO email is not meant to be super-scalable, but if done right you can see a steady jump in your email response rates and no. of booked meetings. Plus, if you're already sold on all the hype about account-based marketing(ABM) then this will just augment your efforts even more.
It's always great to call a prospect but if time doesn't permit and you're not able to get through then a BASHO email could be your trump card.
Increase conversion rate anywhere between 60-80%
Yes, that's right. BASHO emails have shown to deliver great results. Naturally, we open more emails we feel are personal and relevant to us. Therefore this statistic seems to justify the strategy. Just goes to show that investing time in understanding your prospect does always pay off.
Can be used to reach high-value accounts
BASHO email is an enterprise level sales strategy if used to its potential. This means it can be used to reach CXO's as well.
It's easy and doesn't require any special training
If you're in sales and are thinking of trying something new for your 2019 strategy, why not try this approach? You can read more on How to use BASHO below but its pretty straightforward. Find any point that can create a way to reach out to your prospect in a more personal manner.
You can use this method for more than just sales
BASHO needn't be restricted to only sales. Marketers, bloggers can use this approach for collaboration initiatives, guest blogging and more!
Using this strategy doesn't always convert a lead to a customer. It won't always matter either. Chances are if they've read your email then that person has a good impression of you.  This could, in turn, increase your chances of lead re-engagement.
How to use BASHO
It's not too hard to use this method. Just think about how you would talk to someone who met you previously. We use the information we know about them reflexively. Similarly, to use BASHO emails you need to find some kind of connection with which you can portray that you know the person.
For example, if research reveals that the person is from Colorado and is a football fan. You could then drop a reference from a recent football game.
This is usually a really an effective tactic mainly because it helps you to connect on a personal level. 
A useful three-step process to implement BASHO is to do the following:
Scan social sources to find out what you can about the lead
Highlight and copy/paste anything you can use to connect
Write an email with referencing
Take for example the below profile page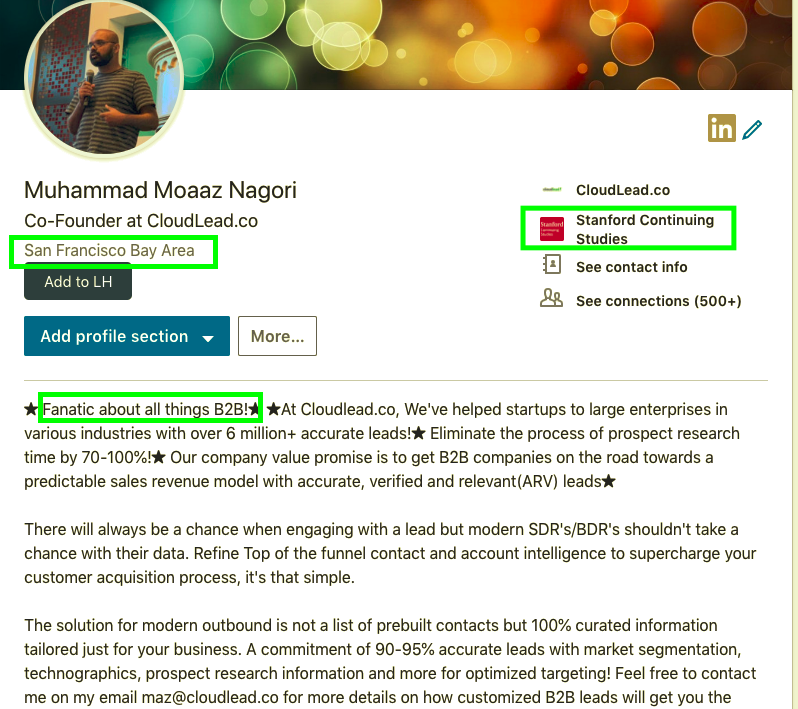 Just at a glance, we know the location, the fact he took a course in enterprise sales and is a fanatic about all things B2B. It isn't always necessary that we find something super specific.  For example, over here we could start an email off about a new ABM tactic used in B2B or some amazing fact or statistic relating to B2B marketing.
How much Email Personalization Gives Optimal Results with BASHO?
There is a grey area between personalization and ROI on personalization. This strategy is only justified if it gets you through to high-value accounts efficiently, meaning there is an amount of time you need to dedicate. According to a study on sales email personalization by Salesloft and Nova.ai after analyzing 6 million sales emails the results of personalization were as follows: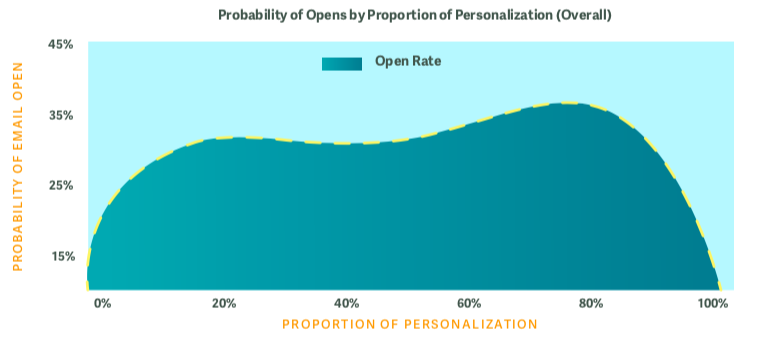 From this chart, we understand that when we personalize at 20% and at 80% there are jumps in the response rate. However, the third factor to consider here is time. Let's say it takes 6 minutes to send an email at 20% personalization, therefore it should take 24 minutes to send an email at 80% personalization.
20% personalization, we get 30% response but we can touch 2000 prospects –  600 replies
80% personalization, we get 35% response but we are only able to touch 500 prospects – 175 replies
The data reveals that simply having a 20% personalization provides optimal results. You're getting 600 replies, meaning more warm leads in your pipeline.
Now that you know what BASHO emails are and why they're so important. The next step is to fit this in your strategy for your new year. If you need the right data to implement this strategy you can always fill out our sign-up form to discuss the plethora of data points Cloudlead can provide for you!