Let's be honest here – there probably aren't a lot of plugins and tools out there that have the same functionality as Rapportive (now known as Sales Navigator Lite). This is simply because LinkedIn has the largest database of companies and people, along with their complete information.
But with the extension discontinued in mid-March 2020, the question is whether there are any Rapportive alternatives that salespeople and marketers can use to find information on companies and prospects.
For this, we've compiled a list of extensions that have the closest form and functionality to the tool we have all come to love.
7+ Alternatives To Rapportive (Sales Navigator Lite)
Clearbit
Lusha (maybe)
FullContact
Lead411
RocketReach
Discoverly
Reply.io
ContactOut
Let's dive into each of them:
Alternative 1 – Clearbit Connect
Link to extension: Google Store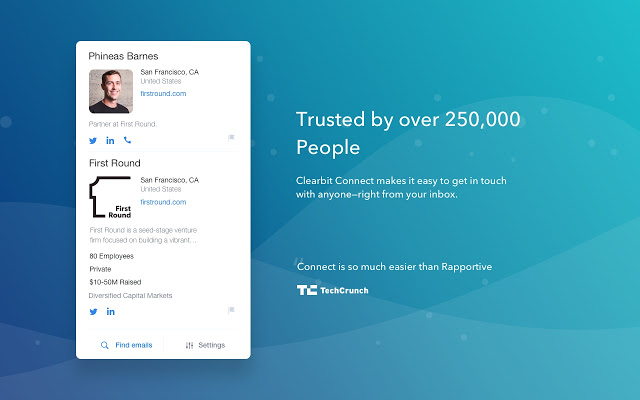 Source: Google Store – Clearbit
This is probably one of the most well-known extensions on this list – and the one that has the closest functionality to Rapportive or Sales Navigator Lite.
The extension can be installed in your browser and Gmail inbox. It allows you to search for emails directly from your inbox and additionally provides company information where you have an email from someone open.
As such, it is a good Rapportive alternative – the data it provides includes employee size, prospect's bio, links to their social media accounts, etc.
Clearbit Pricing: Freemium
Alternative 2 – Lusha
Link to extension: Google Store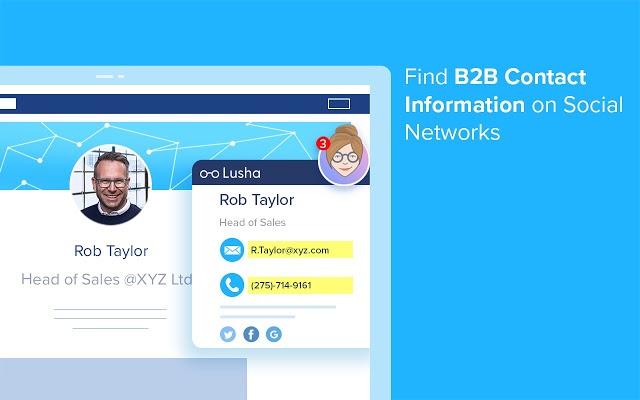 Source: Google Store – Lusha
While Lusha isn't exactly a Rapportive alternative, it is still a lead enrichment extension that allows you to find personal and business emails, and direct dials. It integrates directly in your browser and opens a widget on social sites like LinkedIn.
The main advantage of Lusha is that it offers a number of direct integrations such as for Salesforce that allow you to directly add contacts to your CRM.
Lusha Pricing: Freemium – 5 credits per month. Paid starts at $25 per month.
Alternative 3 – FullContact (Now Contacts+)
Link to extension: Google Store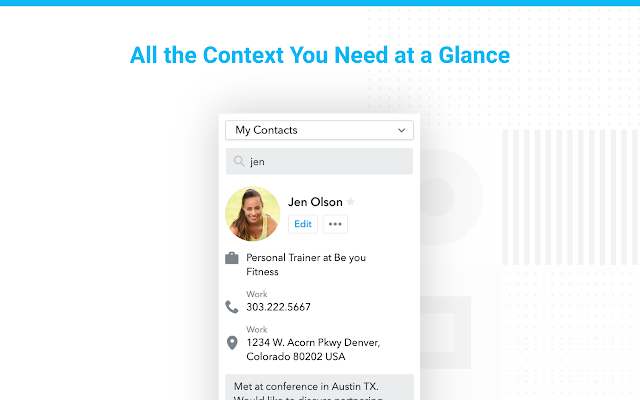 Source: Google Store – Contacts+
This is another Rapportive alternative that integrates with your Gmail inbox and pulls up the profiles for email contacts in a sidebar.
The extension provides information like job title, location and social links, along with a photo of the prospect. But the best part is that is also pulls up profiles from channels like Angel List.
The unique twist to this tool is that it provides a Twitter feed tab that allows you to keep up with what your contacts and prospects are doing – great if you need something to start the conversation with.
FullContact Pricing: Freemium. Paid plans start at $8.33 per month.
Alternative 4 – Lead411
Link to extension: Google Store
Source: Google Store – Lead411
While not as popular as the other alternatives on this list, Lead411 is still a handy little tool that can help you find company and contact information directly from your Gmail account.
Going a step further, this extension allows you to source contacts and even send them automated emails from your inbox. But it's not limited to just Gmail – you can even find contact information while visiting different websites.
Lead411 Pricing: Paid – Starts from $99 per month.
Alternative 5 – RocketReach
Link to extension: Google Store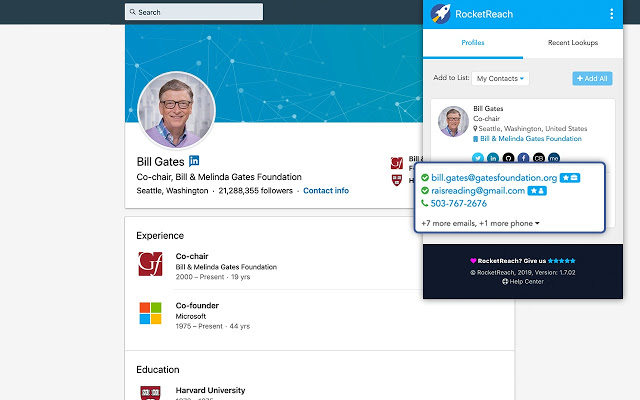 Source: Google Store – RocketReach
This is again not a direct Rapportive alternative, but they do claim to have a database of 300 million profiles from 10 million companies.
Since the tool works on popular sites like Google, LinkedIn as well as company sites, sales reps can easily pull up profiles and contact information for their prospecting efforts.
RocketReach Pricing: Freemium – limited contact look-ups per month. Paid plans start from $59 per month.
Alternative 6 – Discoverly
Link to extension: Google Store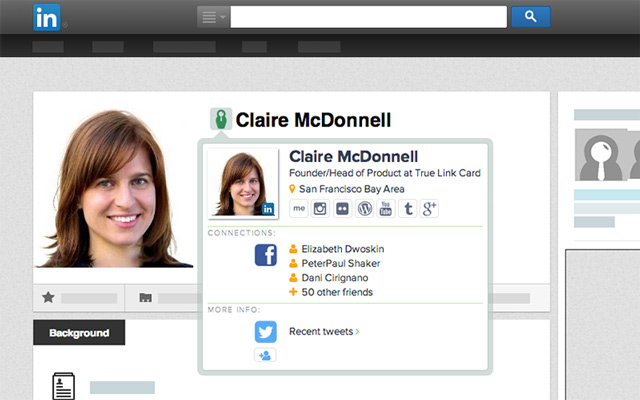 Source: Google Store – Discoverly
Discoverly offers one essential feature of Rapportive that most other tools don't – it allows you to pull up extensive information from social profiles like Facebook and Twitter. In other words, besides someone's work profile, you can also find contact details for people on social platforms.
Since it integrates with your Gmail, it also pulls up the usual company information for contacts such as website, address, etc.
Discoverly Pricing: Free.
Read: 6 Types Of B2B Data For Boosting Your Sales And Marketing [Infographic Included]
Alternative 7 – Reply.io
Link to extension: Google Store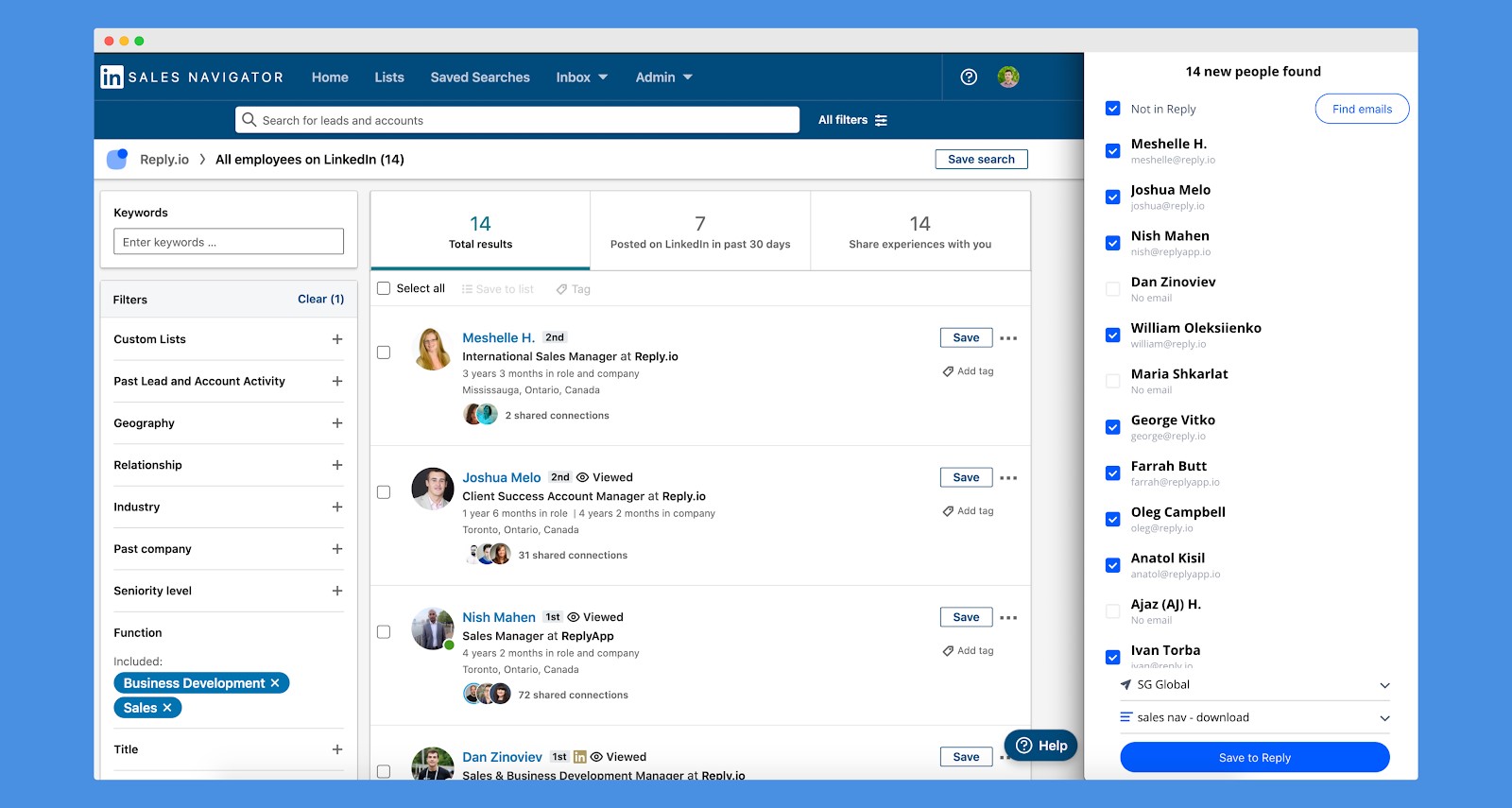 Source: Reply.io
This brand-new addition to the Reply's sales engagement platform offers an alternative to Rapportive by helping you to find anyone's email address on LinkedIn. 
This works both for automated bulk search (through LinkedIn Sales Navigator) and for manual research, one lead at a time.
The main advantage of this tool is the accuracy of the provided information (up to 85%), although it doesn't offer any additional info like phone numbers.
Reply's Pricing: Free, no search limits (requires an active Reply account – starting at $55 per month).
Alternative 8 – ContactOut
Link to extension: Google Store
Source: ContactOut.com
While Rapportive is a LinkedIn tool that gets detailed information on your prospects in your inbox, ContactOut does the exact opposite — this tool finds the contact information of your leads from their LinkedIn profiles.
The main feature of this tool is a lightweight Chrome extension that adds an overlay on LinkedIn that finds the email addresses and phone numbers of any LinkedIn user.  The tool also lets you save and organize your leads in an intuitive and easy-to-use dashboard, as well as find the contact details of people who are not on LinkedIn through a comprehensive search portal. 
ContactOut's Pricing: Paid – Starts at $19.99 per month.
A Different Rapportive Alternative – Cloudlead.co
Want a different solution for your data enrichment needs? Try Cloudlead.
While Cloudlead differs from Rapportive or Sales Navigator Lite in form and functionality, we are still a service that helps you achieve two simple goals:
Enrich your leads
Provide in-depth information on your accounts and prospects
In fact, I'd go as far as to say that we are more of a supplementary service to these automated tools. Since we combine the power of human verification with our internal tools, we can essentially provide you all the data that is lacking in your CRM.
In other words, we work to bring you further insights that help you reach your target accounts at the right time and armed with the right sales trigger.
The best part is that even though this is a managed service, you still don't have to waste your time on lead research, enrichment – or even uploading the information to your CRM – since we have account managers for this job.
Interested in learning more? Book a demo with us today.