Having verified direct dials is very much like being given direct access to your prospect. There is no anxious wait for them to open your email or need to wonder why a prospect opened an email five times but did not respond (all too common).
What's more, research says that 57% of C-level execs prefer getting a call from salespeople.
Of course, having direct dials is not enough – you need all sorts of information on a particular account to connect with the decision maker and sell effectively. By this, we mean that you need data points like firmographics, technographics, account data, buying signals, etc.
Read: 6 Types Of B2B Data For Boosting Your Sales And Marketing
So in essence, access to direct numbers will make you more effective and efficient – and allow you to meet your quota or that of your team in roughly half the time.
Here's how;
You and your team will be spending a lot less time searching for numbers or calling on wrong ones.
You will have a better connect rate – you'll be able to reach more prospects in less time
You'll be able to combat call reluctance more easily
Your team will be a lot more motivated with access to key decision makers – this is especially important seeing how 44% of sales reps give up after 1 follow-up
And lastly, you'll be able to connect with decision makers directly – as opposed to the dreaded gatekeeper
Keeping all this in view, the importance of having phone verified direct dials simply cannot be underestimated.
Without further ado, let's dive into the channels through which you can find direct dials to support sales.
1 – LinkedIn
For B2B businesses, LinkedIn is a veritable treasure trove – you can sort through and find prospects, sift through information, identify a number of buying signals and sometimes if you're lucky, get a hold of direct dials.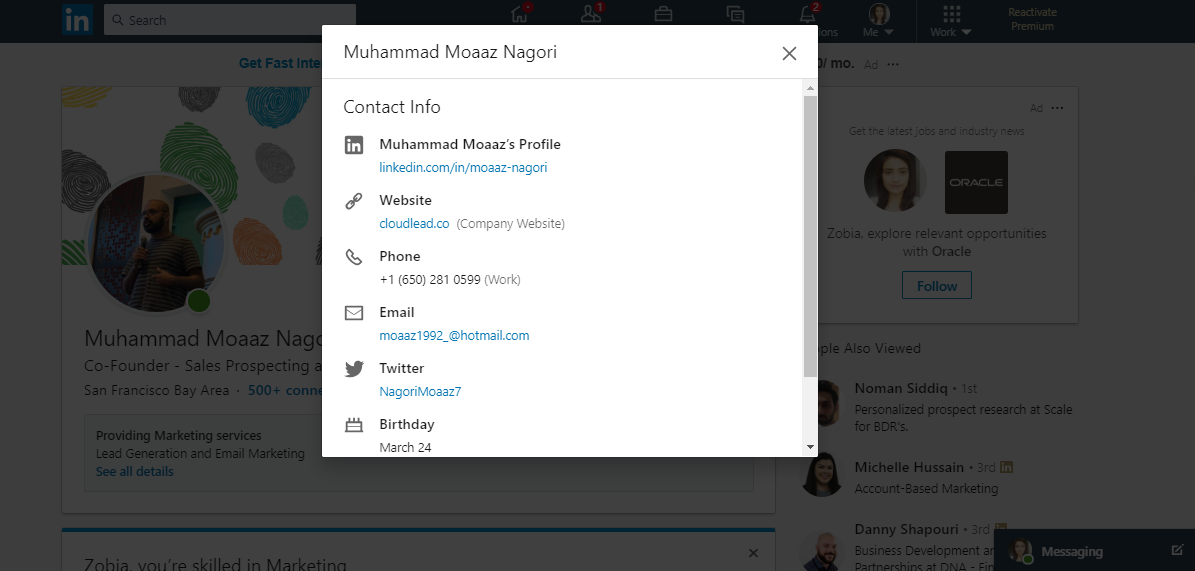 2 – Check other social platform and publications
Often, people leave their number on Facebook or Twitter posts so it's definitely worth looking into. Other sources to check include author bios on guest posts – many publish their direct dial right beneath their name and email. For this, you can use SEO tools like Ubersuggest or SpyFu to first check for external links on the prospect's site and then hunt down guest posts.
Yes, this is a long, long shot.
3 – Ask for a referral
Check if you have any mutual connections with the prospect on social media – LinkedIn, Facebook, etc. –and ask your connection to give you a referral. Chances are they'll be happy to make an introduction and give you the prospect's number while at it.
4 – Send emails for automated replies
This one is a bit time sensitive and mostly works around major holidays like the 4th of July, Christmas, New Year, etc.
How it works is simple – if a little bit deceptive.
Basically these are the holidays that most people are out of office on which means they set automated replies with their contact information (direct dials) or another person in the organization.

5 – Google
This one is simple – in most cases, too simple – but it could potentially work. Simply search for the person with 'number' and you might get lucky and pull up a relevant result.
6 – B2B data provider
Now this is one option that does not require you to rely on luck or waste your time searching different platforms.
Get a third party vendor to supply you with direct dials – and as an added benefit, providers like Cloudlead can also source deep insights and data that can help you sell better.
There are many providers out there that promise to give you the best quality data but often can't follow through. And this is exactly why you should opt for someone who promises you quality data with the option to replace 'not found' numbers or leads. What this means is that if they are unable to source the right number, they will replace the prospect/account with another suitable option.
Another option is to ask for verified extensions with office numbers – these aren't direct dials, but they are almost as good.
Read: 6 Ways To Get Past The Gatekeeper With Ease
What makes this the most efficient way of enriching your database or sourcing new prospects is the fact that you and your team don't have to spend hours each day looking up contacts and numbers – or uploading them into your CRM. This means you have more time to do what actually matters; connect with prospects and close deals.
In short, partnering up with a data provider helps you solve two critical problems in your sales process. The first is availability of deep insights into your target accounts and the second is sales productivity, especially since most reps only spend 36% of their time selling and the rest on non-revenue generating activities.
So You Have Direct Dials – What's Next?
The next part is knowing what to do and expect with cold calling. Cold calling is a game of math and the answer below will certainly shed light on what processes an ideal salesperson goes through to make a customer.
Here's a snippet from Quora, it's an answer on the question: "What is the percentage of successful cold calls in B2B?" by Moaaz Nagori, Co-founder at Cloudlead.
"Cold call stats revolve around a few things:

Connection rate; This is the rate or % of people you manage to connect with. Things that hamper this % are invalid dials or numbers, not being able to get past the gatekeeper, voicemail, no answer, etc.

Conversation rate; Out of the connection rate, how many were you able to have a proper conversation with.

Meeting Rate; Out of the X number of conversations how many agreed to a meeting.

Time; Often at times people don't factor in time which is extremely important. Your meeting rate could be 25% from cold calls but if it takes a lot of time then that can really impact the effectiveness of our activities."

Source: The above snippet was taken from Quora, answer written by Moaaz Nagori.
Want to source fresh data and phone verified direct dials for your sales team? At Cloudlead, we've helped hundreds of clients scale their outbound with the help of fresh data, detailed insights and numbers of key decision makers. Ask us for a free sample today.