People are anxious, events and conferences have been cancelled and you can forget the face-to-face meeting you had planned with your next best customer.
Let's admit it. The world is facing quite a bit of uncertainty and this means your prospects are quite concerned to say the least. They are not thinking about the best sales enablement solution, but rather, might be thinking of things like cost minimization. This article aims to spread awareness about the current situation and simultaneously share some ideas with all our readers.
If you're already an expert, feel free to skip to the next part of this article but just in case, let's delve into COVID 19 briefly.
Coronavirus disease 2019 or COVID-19 started in Wuhan City, Hubei Province, China in December 2019. Since then, the strain has spread to practically all corners of the world, with tens of thousands of confirmed cases.
Now, besides the obvious health implications of this latest global pandemic, economists are warning of an upcoming recession. And it's fairly understandable why – travelers have cancelled their flights amidst lock-downs, businesses are afraid of calling employees in for work and productivity has decreased sharply. Combined, these factors have affected consumer demand, share prices and the global economy overall. It's also estimated that this pandemic will cost upwards of $2.7 trillion in lost output.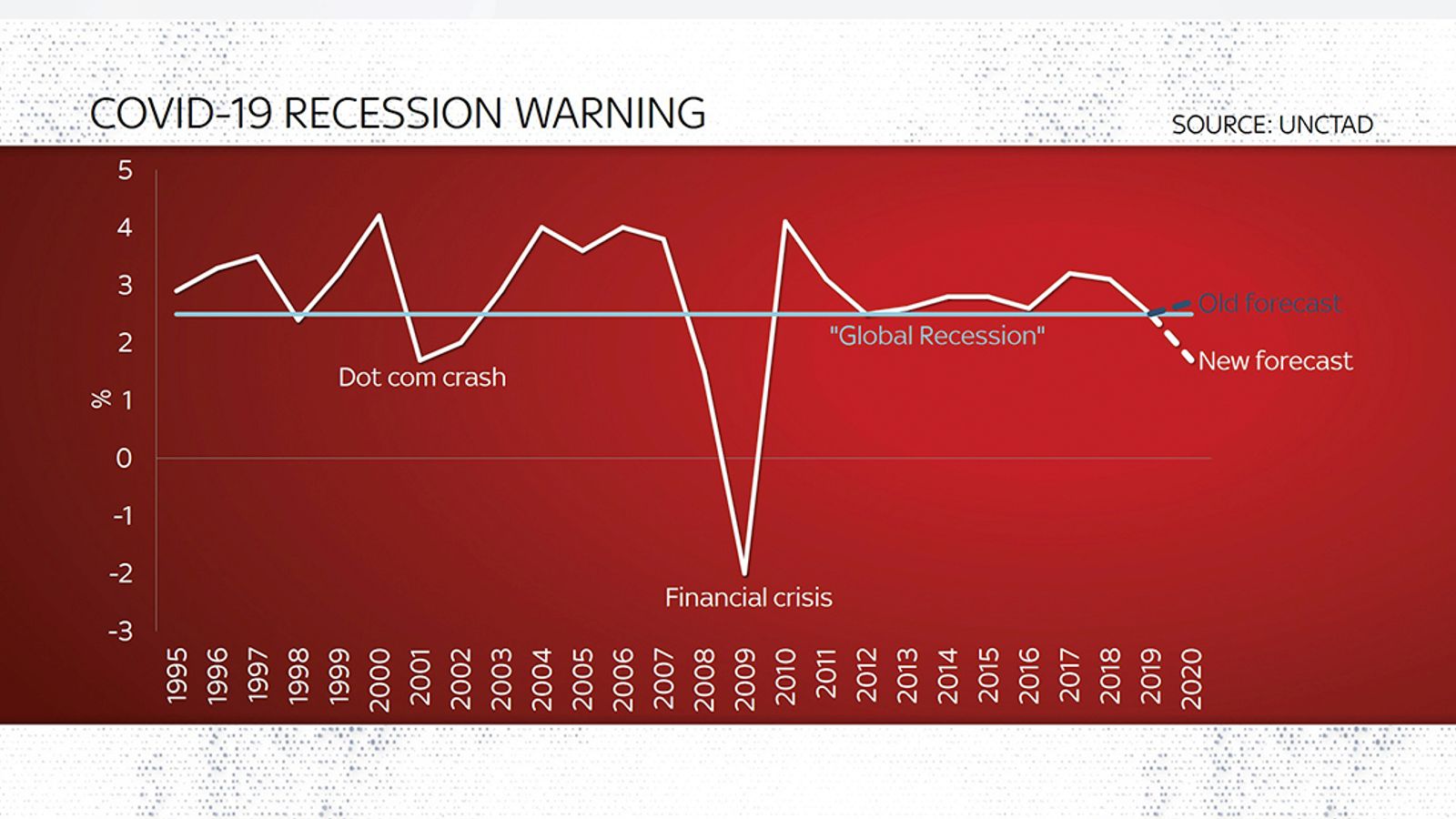 Source: UNCTAD
And so, it goes without saying that for businesses, it'll be difficult to meet sales quotas. Employees are working remotely or in odd shifts to avoid large gatherings, and face to face sales meetings are highly discouraged.
To keep driving demand, businesses – especially those in the B2B space – need to rely on alternate channels like outbound.
In short, despite the current climate of uncertainty and panic, this is actually the best time to finally take the plunge and test out new ways of connecting and selling.
Here's what we mean:
Tip 1: Innovate Your Selling Process
Let's start with something obvious. Customers need solutions in two specific circumstances – when they're growing and need a scalable solution, or they have identified a pain point and need to invest in something that can help them solve their problem.
Keeping this in view, it's important to change your strategy and value delivery. Consider the ways that your product or service can facilitate businesses during this global pandemic and help them power through.
The key is to be innovative so you can stand out – however, it's vital to keep everything positive. Don't use fear or panic to try and close a deal fast or you'll just end up losing the account for good.
Tip 2: Don't Enforce The Same Process Or Quotas
If there is any time to re-evaluate your goals and process for selling, then it is now. In simple words, this is not the time to enforce the same old quotas that were developed in a very different economic situation.
It's inevitable that your sales will drop – the only question is how much will you let them drop before re-aligning your strategy with the current condition. The best thing to do right now is take stock of your customer portfolio, reach out to those who are available (through video meetings) and reassure them of your commitment to the account.
Read: How to Integrate Lead Nurturing Into Your Sales Process
For prospecting new deals, here is what you can do:
Combine cold emails with calls (to mobile numbers)
Re-iterate your value in the current climate
Keep following up
Be positive, don't be afraid to discuss Coronavirus – alternately, don't talk about it too much. There has to be a fine balance.
If the lead asks
Another idea is to use referrals from your current customers, especially those who have been with you for a while. Remember, they're in the same boat as you and will not begrudge giving you a referral or introduction.
Tip 3: Don't Try To Force A Deal
At this point in the Coronavirus outbreak, many businesses are still scrambling to design and implement health and safety strategies. Keeping this in view, it might not be the best time to force a deal on your lead – whether it's a cold prospect or a lead that you've been trying to close.
Here's a real example from Cloudlead. We've been talking to an SDR for a software that can help with our digital marketing efforts. However, since the past week, we've become uncertain of whether this is the right time for us to use the solution.
In other words, with organic traffic and sign ups declining, we just don't feel that we would get the expected ROI. Today, when we spoke to the SDR to delay implementation (which was set for next month), he surprised us by saying that he understood our concerns.
And this is exactly the approach everyone needs to adopt towards their leads.
Tip 4: Overload Your TOFU
Right now, you should still fuel your top of the funnel with quality leads. They won't be ready and accept that. However, you may ask, "what do we do with these leads if we're not selling or they're not in buy-mode?
The simple answer is, build and maintain the relationship.
Focus simply on being helpful and getting that prospect to remember you when the time comes (and it will come soon hopefully!). When things look clearer then you'll have reservoir full of leads to make up for lost time.
Invest in some lead nurturing software and lead enrichment solutions for this scenario too – maybe even look back at old relations.
Bottom Line
We hope that the Coronavirus pandemic is addressed soon and that everyone stays safe during this time.
As for your business and sales, this is the perfect opportunity to double down on your sales and marketing efforts – it's just important to try out new strategies and see what works for your target market.