Getting people to open your emails – and most importantly, reply to them – is difficult and the only answer is consistent email follow up.
Have you thought about how many emails are sent in a single workday? According to Statista, in 2020, 306.4 billion emails were sent in a day. Think about it, by the time it takes you to read this article, 213,000,0000 emails were sent.
Simply put, emails are a big part of our lives.
It's another story, however, as to how many are opened.
According to Mailchimp, the average open rate rounds up to 21.33%. This means that a great percentage of emails go unseen, unopened or worse – deleted.
But what if you keep getting a follow up email – and call – from a rep every week. Wouldn't you at some point finally open the email, especially if the subject line sounds interesting?
Read: 20 Email Subject Lines For The Best Open Rates
Statistics On Email Follow Ups
Here are some numbers that support the importance of following up in sales;
According to Woodpecker, campaigns with 4-7 follow ups have a 3x higher reply rate compared to campaigns with only 1-3 emails.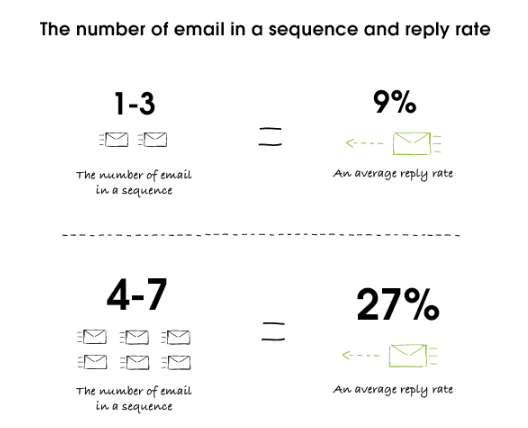 Source: Woodpecker
Similarly, an older study reports that high growth organizations typically average at 16 touch points per prospect within a month.
About 60% of customers say no at least four times before saying yes – but sadly, a great majority (92%) of sales reps give up after the fourth touchpoint.
The moral of the story here is that you need to keep trying, thereby increasing the possibility of the prospect seeing your message and actually replying to you. We're not saying that you should overwhelm a prospect by emailing them every day. Rather, you should adopt a multi-channel approach – send three cold emails, make a call, then send an email, reach out on LinkedIn (or any other channel that the prospect is active on), email again, etc.
It's also important to consider at any given time, more than half of your market (56%) is not ready to buy, only 40% are poised to begin and only 3% are actually in the process of buying.
Hence, each campaign and your email follow ups should take course over a period of several weeks and even months unless you want the prospect to report you as spam.
Here are some important rules that can help you formulate a proper strategy for email follow ups.
Important Rules For Email Follow Ups
Rule 1 – Schedule Your Follow ups
While there is no 'rule' for when you should send a follow up email, it's generally a good idea to space out your messages. As long as you're using a good cold email software to automate and track your emails, you can adjust based on the data.
If you're still questioning the results of outbound, you better check out Outreach.io which used 90% outbound to reach its unicorn status. Specifically, they've also used a killer outbound sequence called the Agoge sequence to double their outbound results.
Having the ultimate schedule is important and full attribution goes to Sam Nelson, SDR leader at Outreach, for sharing this. If you're a sales or marketing person, you must follow him. Sharing actionable knowledge is one of the best forms of follow-up. Remember that.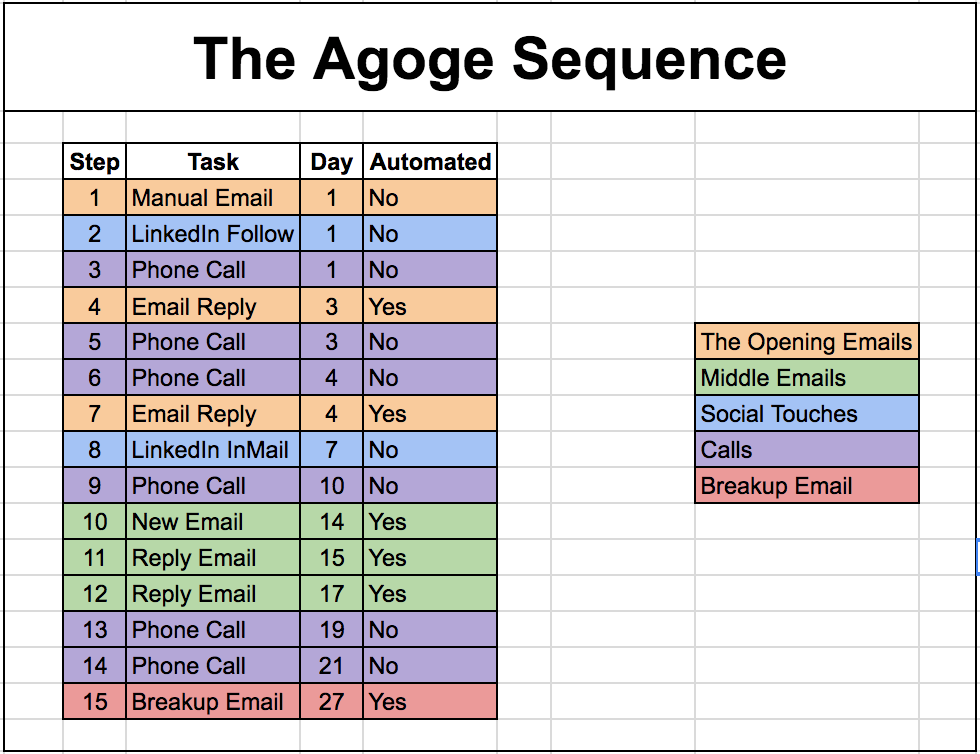 Source: The Agoge Sequence: A Blueprint for 2X Response Rates
As you can see above, it's also a good idea to switch it up a little – like we said, maybe you'll get a better response on sending the second follow up on day 8 or even 10. You'll never know until you actually try.
Secondly, we recommend that you also try to call the prospect if there is no response after the 3rd follow up. If you don't manage to get through, leave them a message on LinkedIn.
Rule 2 – Time Your Follow Up
Again, while the right time to send an email depends on your target audience, numerous studies have delved into the topic. Here are the results from a few;
According to GetResponse, sending an email on Tuesday between 11 AM and 2 PM leads to increased open and click-through rates.
Mailchimp says pretty much the same thing – emails sent on Tuesdays and Thursdays around 2 PM have a better chance of being read.
On the other hand, Yesware delved into their data and found that it's better to segregate the timings according to the city your audience is primarily based in. You can check out their really cool tool to help salespeople and marketing figure out the right time here; Best Time to Send Email Map.
Rule 3 – Keep It Short And To The Point
Email follow ups – much like your first email – should also be kept short and to the point like a BASHO email.
Remember, you need to avoid generalizations like – "just following up" and end with a clear CTA.
Rule 4 – Outsource If Writing Isn't Your Cup Of Tea
Each email in your campaign should be carefully crafted with compelling subject lines. But if you're a one-man army or don't have the time and the flair for it, it's a good idea to outsource this part to a copywriter from platforms like Airtasker.
Now that you know the importance of following up and some important rules to follow, we've compiled a few email templates that you can actually use.
5 Email Follow Up Templates
Template 1 – Brevity Or Short Follow Up
This first template perfectly sums up the brevity (be short and precise) approach;
Hey [Name],
Can we hop on a quick call on [Date] at [Time]?
Best,
[Your Name]
PS: thought you might find this article interesting [Link]
[Your Name]
Template 2 – Value Proposition
Hey [Name],
I know this could sound a bit pushy, but I would really hate to give up on helping you – especially since I know we can [value proposition].
Best,
[Your Name]
Template 3 – Highlighting The Benefits
Hi [Name],
Need to increase [pain point]? I want to buy you lunch for the chance to show you how we can help you do this. It turns out that [your product] directly leads to [benefit].
[Your company] has been enabling [benefit two]. Our customer [drop name here] saw a 450% increase on [result].
Want to learn how we can do the same for [prospect's company]?
Cheers,
[Your Name]
Template 4 – After Calling Them
Hi [Name],
I just called to [explain why].
I've left a voicemail where I mention that I'll try you again on [date and time]. If it makes sense, feel free to reach me whenever works best for you at [your number] or just reply to this email.
[Your Name]
Template 5 – Don't Be Shy
Hi [Name],
I have been diligently reaching out you for [time]. As the [prospect's position], I'm sure you can appreciate consistent follow up, and a thumbs up or down would be greatly appreciated.
– [Your Name]
Actual Follow Up Emails That Have Gotten Us Results
These are some actual emails that we sent out to clients – and that actually got us the deal!
Example 1 – Short And Simple

Example 2 – Re-engaging A Lead

Last Word
Before we end this, I would like to include one last great email – I absolutely love it – and while it's not exactly a follow-up email, it is certainly one that ticks all the boxes.
This one was sent out by Philip Mastrotto at Letter Friend and shows how a little personalization and originality can help you stand out from the crowd;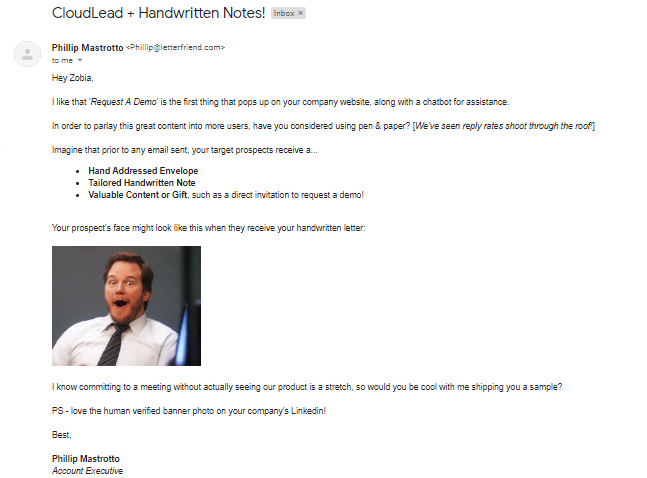 Here's a bit of advice from Philip about writing good emails; "When personalizing into a template, dissecting the right information on your target prospect is key in generating an excellent reply rate!"
Learn how Cloudlead has helped hundreds of clients gain better insights into their target accounts. Ask for a sample list today.